Back to AASPA Book Store
Yikes! 1st Time Working Remotely Isn't As Easy As I Thought
Webinars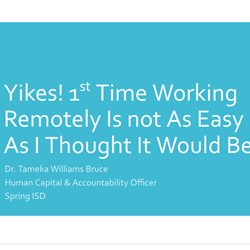 Original Date of Webinar - April 27, 2020 @ 11:00 AM - 12:00 PM CDT
Tameka Williams-Bruce, Human Capitol and Accountability Officer at Spring ISD will present.
Transitioning to a remote work environment can be overwhelming, especially in an environment where we are fueled by human contact. Participants will gain insight and tips on how to effectively work from home.
ARE YOU AN AASPA MEMBER? CLICK HERE TO VIEW THE WEBINAR FOR FREE.
---