Back to AASPA Book Store
Becoming a School Principal. Learning to Lead, Leading to Learn
AASPA Book Store | Career Management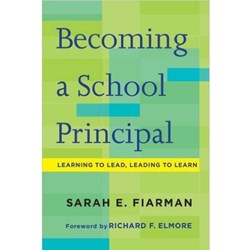 By Sarah E. Fiarman
The principal's role is increasingly understood as a critical lever for school improvement. Yet the job can be a solitary one, offering few opportunities to reflect with colleagues. What does it take to manage the work of continuous improvement—to push staff members constantly to operate outside their comfort zones? What dilemmas and challenges must principals confront? How can school leaders learn from their mistakes and move forward?
In Becoming a School Principal, Sarah E. Fiarman describes her first few years as a school principal committed to enacting a powerful vision of leading and learning. Drawing thoughtfully on the literature of school reform and change leadership, Fiarman discusses a wide range of topics, including empowering teachers, building trust, addressing racial and economic inequities and supporting a culture of continuous learning, as well as thornier issues such as learning to use authority skillfully, dealing with resistance and managing supervision and evaluation. The book addresses common challenges and highlights missteps as well as successes.
A contributing author to several leading books on school reform and instructional improvement, Fiarman engages readers in a lively, frank and revealing conversation about building the vision and capacity to provide effective instruction for all students and the intensely personal process of learning to lead.
---