Back to AASPA Book Store
Family and Medical Leave Act Compliance Manual
AASPA Book Store | Compensation & Benefits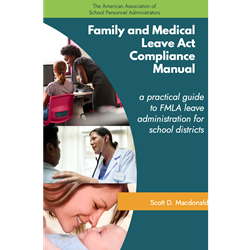 By Scott D. Macdonald
This Compliance Manual is intended to provide a detailed explanation of the Family and Medical Leave Act of 1993, as amended, with an emphasis on its application to public and private elementary and secondary school systems.
The Manual describes the statutory and regulatory requirements to enable individuals who have a role in managing FMLA leaves to find answers to common—and not so common—questions related to FMLA administration. It is designed to serve as a comprehensive resource tool and reference guide to ensure that the school district complies with all of its obligations under the FMLA by implementing policies and procedures to minimize the risk of violating employees' FMLA rights and exposing the school district (and school officials) to costly and time-consuming litigation or U.S. Department of Labor (DOL) investigations.
Each chapter of the FMLA Compliance Manual offers a detailed outline of general topics as well as specific issues, examples and suggestions to help make the employer-employee relationship run more smoothly.
View the FMLA Compliance Manual Table of Contents.
Recently, the Department of Labor issued new prototype FMLA Notices and Certification Forms on July 16, 2020 after receiving "substantial public input." Some of the forms were entirely reorganized and revamped, while others received less significant revisions. The DOL revised the introductory statements and instructions on the notices and forms to make them more aligned with the regulations and more consistent with each other and added certain explanatory information (e.g., definitions of family members). For more information, check out the news release.
---