Back to AASPA Book Store
Working From Home. Navigating Data Privacy Concerns While Working Remotely
Webinars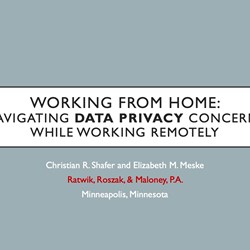 Original Date of Webinar - April 20, 2020 @ 1:00 PM - 2:00 PM CDT
Christian Shafer and Elizabeth Meske of Ratwik, Roszak & Maloney, P.A. will present.
Today's presentation will explore the potential data privacy implications of working from home. Specific topics will include video instruction with multiple students, protection of student records, and potential security concerns. The presenters will also discuss potential ramifications that working from home may have with respect to personnel, and personal data on employees, and the potential application of the First Amendment to employee speech while working from home.
ARE YOU AN AASPA MEMBER? CLICK HERE TO VIEW THE WEBINAR FOR FREE.
---