Back to AASPA Book Store
The Coronavirus Pandemic and the FMLA
Webinars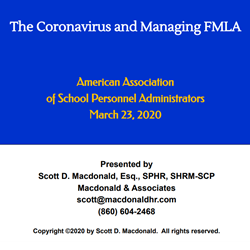 Original Date of Webinar - March 23, 2020 @ 12:00 PM - 1:00 PM CDT
AASPA has received many questions from school systems about the effect the COVID-19 pandemic outbreak has on managing FMLA leaves. Join Scott Macdonald, Esq., SPHR, SHRM-SCP as he sheds light on some of the issues facing our school districts. Scott has been a great resource for AASPA and has been in contact with the Department of Labor (DOL) there will be plenty of time for Q & A.
In an effort to support all of our #K12Talent colleagues, this webinar will be offered Free for both our members and nonmembers of AASPA.
To access click here.
---