Back to AASPA Book Store
Infusing Distance Learning
Webinars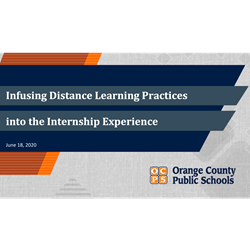 Original Date of Webinar - June 18, 2020 @ 10:00 AM - 11:00 AM CDT
Allison Kibbey, Director, Instructional Technology & Library Media, Javier Melendez, Director, HR Special Projects and Marcie Wheeler, Director, Instructional Systems at Orange County Public Schools, Orlando, FL will present.
A big what if, quickly emerged with the COVID-19 challenges, what if our schools and universities/colleges remain closed into the Fall Semester? What would be the concept and methods for the continuity of delivering an internship experience? In seeking a proactive answer, we engaged the expertise of our Digital Curriculum team. The team of experts has created a thought-provoking presentation addressing the unprecedented need. We are looking forward to sharing this special presentation with AASPA and colleagues from colleges and universities. We hope you are too!
ARE YOU AN AASPA MEMBER? CLICK HERE TO VIEW THE WEBINAR FOR FREE.
---