Back to AASPA Book Store
How to Engage Education Support Professionals in District-Wide Professional Development
Webinars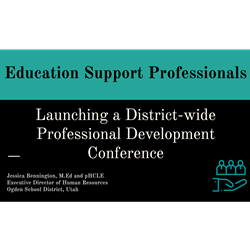 Original Date of Webinar - June 30, 2020 @ 1:00 PM - 2:00 PM CDT
Jessica Bennington, Executive Director of Human Resources at Ogden City School District in Ogden, UT will present.
See how one district launched a district-wide professional development conference for Education Support Professionals. Learn the process they followed, data collected, and why they launched a second one that same year! All of this was done with a small team with a limited budget.
ARE YOU AN AASPA MEMBER? CLICK HERE TO VIEW THE WEBINAR FOR FREE.
---