Back to AASPA Book Store
Hire for Equity
Webinars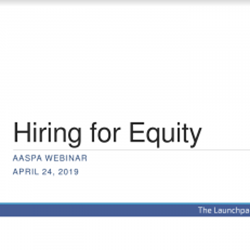 Original Date of Webinar - April 24, 2019 @ 11:00 AM - 12:00 PM CDT
Sarah Zelazoski, Executive Director of Human Capital at Mequon-Thiensville School District, will present.
This presentation explores the Mequon-Thiensville School District's journey to align hiring practices to our Integrated Comprehensive Systems work, eliminating inequities for each student. Within a framework of continuous improvement, participants will learn about systems used to select educators.
ARE YOU AN AASPA MEMBER? CLICK HERE TO VIEW THE WEBINAR FOR FREE.
---