Back to AASPA Book Store
Grow Your Own Teachers. Actions Taken From Alumni Entering the Education Field
Webinars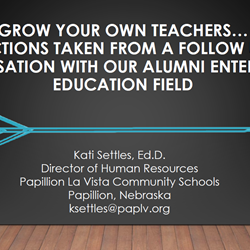 Original Date of Webinar - January 24, 2020 @ 1:00 PM - 2:00 PM CDT
Kati Settles, Asst. Superintendent of Human Resources at Papillion La Vista Community Schools, will present.
Growing your own teachers has never been a more timely topic as we are all impacted by the teacher shortage! After sitting down with alumni who were graduates of our High School Education Academy, we gained insight on what makes the biggest impact for these now college students studying education. We will share what actions we have taken to make the biggest impact with these potential future employees! Attendees will take away many ideas and share your own insight on growing your own.
ARE YOU AN AASPA MEMBER? CLICK HERE TO VIEW THE WEBINAR FOR FREE.
---