Back to AASPA Book Store
Teacher Recruitment in 2020
Webinars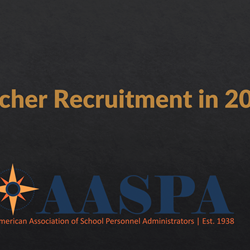 Original Date of Webinar - May 28, 2020 @ 10:00 AM - 11:00 AM CDT
Brian White, Executive Director of Human Resources and Operations at Auburn-Washburn Unified School District 437 - KS, Quiana Peterson, Instructional Recruitment Partner, Lake County Schools - FL and Leticia Jones, Recruiter and Strategic Partnerships at Fulton County Schools - GA will present.
Join a panel of school personnel administrators as they discuss how they are leveraging virtual recruiting and career fairs during the Pandemic. It is clear that recruiting and hiring teachers for PK12 is evolving. Education continues to get more creative in how they are reaching candidates and recruiting them to work in their district. Questions for our panelist will include: What are the Pros and Cons of Virtual Career Fairs? How do you create a great candidate experience virtually? What is the future of PK-12 Recruitment?
ARE YOU AN AASPA MEMBER? CLICK HERE TO VIEW THE WEBINAR FOR FREE.
---