Back to AASPA Book Store
Transforming School Leadership and Management to Support Student Learning and Development
AASPA Store | Training & Development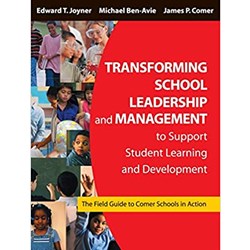 By Edward T. Joyner, Michael Ben-Avie and James P. Comer
The tried, tested and true approach to school leadership using consensus, collaboration and no-fault problem solving!
For more than 35 years, the Yale School Development Program (SDP) has been pioneering the Comer Process for planned change in schools. From initial planning and preparation, through foundation building, transformation, institutionalization and renewal, the Comer Process provides school leaders with a comprehensive and effective framework for transforming their schools and districts into learning communities that support the growth and development of every child and every adult.

Combining research; evidence-based best practices; essential tools for planning, data analysis, assessment and program evaluation and a generous collection of sample letters, sample presentations, charts, tables and graphics, Transforming School Leadership and Management to Support Student Learning and Development offers educators a state-of-the-art guide to:
Identifying the problems the school wants to solve through reform efforts
Designing a comprehensive school plan that includes assessment, modification and staff development
Using facilitators to model excellence and to promote team approaches
Using teams for school planning and management, student and staff support and promoting parent/family involvement and community investment in schools
Training for teaming skills that support and develop consensus decision making
Implementing and sustaining the school's transformation into an effective and efficient operating system that supports student and staff growth and development
Transforming School Leadership and Management to Support Student Learning and Development is sure to be the essential resource for every school leader charged with creating schools, districts and communities that foster the healthy development of young people and challenge them to the highest academic standards.
---