Back to AASPA Book Store
Making the Grade. Connecting Principal Evaluation with Meaningful Professional Development
Webinars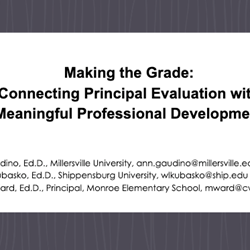 Original Date of Webinar - May 21, 2020 @ 11:00 AM - 12:00 PM CDT
Ann C. Gaudino, Ed.D., Millersville University, Wendy L. Kubasko, Ed.D., Shippensburg University Megan L. Ward, Ed.D., Principal, Monroe Elementary School will present.
Principals must possess the necessary skills to adapt to the new paradigms and need ongoing, personalized guidance and professional development opportunities to do so. This webinar focuses to the interdependence between principal annual evaluation, professional development, and self-efficacy. A model of how central office administrators can utilize the principal evaluation process to improve principal performance will be provided.
ARE YOU AN AASPA MEMBER? CLICK HERE TO VIEW THE WEBINAR FOR FREE.
---