Back to AASPA Book Store
Educator Recruitment and Selection During a Global Pandemic... Its VIRTUALLY Possible!
Webinars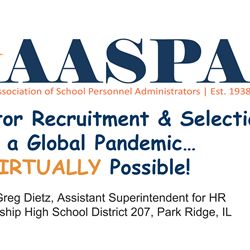 Original Date of Webinar - May 6, 2020 @ 1:00 PM - 2:00 PM CDT
Greg Dietz, Assistant Superintendent of HR at Maine Township High School District 207 in Park Ridge, IL will present.
The perfect storm caused by COVID-19 school closures, social distancing, and the nationwide teacher shortage have forced many school districts to virtualize their approach to educator recruitment and selection. Savvy school districts are quickly adopting synchronous and asynchronous video interviewing technology to compete for top talent, while other districts are retooling their software to host virtual recruitment events and online job fairs. Those school districts that have incorporated these strategies into their recruitment and selection processes have discovered they can reach farther to hire faster, smarter and cheaper. Don't quarantine your talent acquisition process...register for this webinar to learn how to make virtual recruiting your reality!
ARE YOU AN AASPA MEMBER? CLICK HERE TO VIEW THE WEBINAR FOR FREE.
---