Mentoring International Teachers
Date posted
August 6, 2019
By: Kimberly Freeman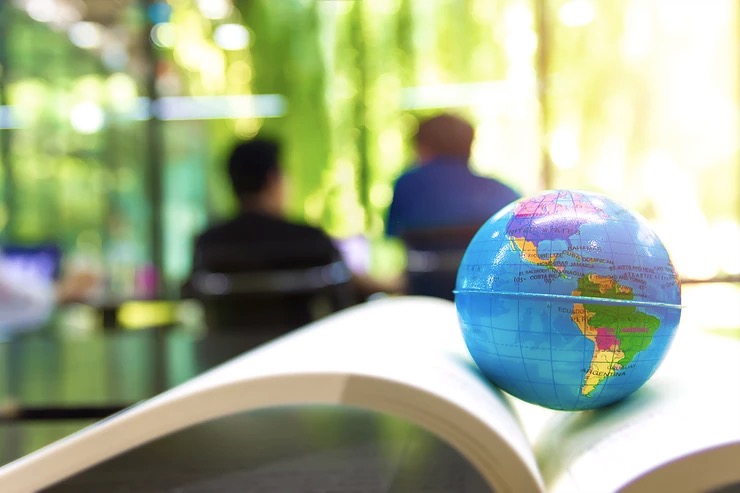 A Three-Layered Mentoring Approach That Works
In the spring of 2008, I walked through customs in Lahore, Pakistan, desperately trying to remember all of the directions I'd been given about how to maneuver the airport appropriately. I'd been told not to make eye contact, how to look across the room to find our luggage, and what to say when meeting our host at a prearranged location. Everything was perfectly safe and planned for me, yet I felt so lost and overwhelmed. The days that followed were filled with gracious, welcoming hosts and beautiful moments in a new country, but at night I struggled to swallow back tears and rest on a bed made of woven ropes that just didn't quite feel like home.
Today I find myself on the other end of the airport, waiting for international teachers who arrive in a land full of cultural expectations and sometimes-confusing customs, and it's my turn to ensure that these teachers are prepared to meet the needs of the students filling our classrooms in Lexington, South Carolina.
Research continues to support effective mentoring as a critical step in accelerating capacity and retaining the teachers joining our profession. When international teachers join our teams, that mentoring requires additional layers of support.
---
Three Layers to Mentoring International Teachers
There are three main areas we must consider when mentoring our international teachers: meeting basic needs, developing 'interculturality', and providing pedagogical support.
1. Meet Their Basic Needs
Just as we understand that there is a hierarchy of needs for the students who enter our classrooms each day, we would be well-served to remember that teachers have a similar progression of needs. Before we can focus on pedagogy and practice, we must consider each teacher's basic physical and emotional needs.
Many times the question posed to our international teachers, "How are you?" is met with a perfunctory "I'm okay." or "All is well." Those answers are not entirely true. Our international teachers are often afraid to place a burden on others. That's why mentors should instead ask, "Do you have a bed for every member of your family?" or "What have you been eating the last few days?" These types of specific questions help uncover their most pressing needs. My district learned this firsthand when we onboarded 14 international teachers and their families into our district a few years ago. By mid-September, we were astounded to learn that many of them were still sleeping directly on the floor. By changing the question from "Is there anything you need?" to "Who needs a bed?" we were able to rally our community to respond to needs quickly and effectively.
Beyond shelter and food, there are other important needs to consider. Mentoring international teachers often includes assistance with obtaining a social security card, visiting the DMV, and navigating insurance and car payments. Along the way, there is something special that happens as we invest in the stories of our international friends, learning about their backgrounds and families and, all-too-often, the ones left behind. Sharing stories builds an important emotional connection that leads to that all-important sense of belonging.
---
2. Develop 'Interculturality'
Adjusting to life in a new language is just one part of the transition for international teachers. The idea of 'interculturality' – of making meaning out of the interactions between two different cultures in a way that allows diverse groups to develop equitable relationships based on mutual respect – is an essential part of mentoring international teachers.
In the Common European Framework of References for Languages, The Council of Europe highlights the following intercultural skills:
The ability to bring the culture of origin and the foreign culture into relation with each other.
Cultural sensitivity and the ability to identify and use a variety of strategies for contact with those from other cultures.
The capacity to fulfill the role of cultural intermediary between one's own culture and the foreign culture and to deal effectively with intercultural misunderstanding and conflict situations.
The ability to overcome stereotyped relationships. (2001, 104-105)
Developing these skills requires intentional learning on the part of our international teachers, our mentors, and our educational communities at large. Inevitably, there will be missteps as we learn to understand each other and the cultural experiences we bring with us each day. In light of that, the work we do here is not just about the mentor-mentee relationship, or even the teacher-team relationship – it must permeate the culture of the building and community to be successful.
---
3. Provide Pedagogical Support
Finally, as the work of meeting basic needs and developing' interculturality' is underway, mentors can begin to focus on pedagogical support for our international teachers.
Our international teachers often come to teach in the United States with great expertise and experience. It is essential that we validate and honor that professionalism. Internal biases often lead us to believe that an accent or language difficulty represents a lack of professional expertise. Work authorization for international teachers almost always relies on certification or credential eligibility and requires home country teaching experience prior to immigration clearance. Our international teachers bring deep professional experiences. We should learn from each other, and the mentor often will step in to facilitate this learning by encouraging all stakeholders to assume best intent.
Alongside of honoring this expertise, it is important for the mentor to assist the teacher in adjusting to pertinent local education practices. For example, in some Asian cultures, students arrive at school and prepare for the day before educators. When teachers from these cultures appear to arrive late for school each day, it is not a disregard for rules being displayed, but rather a misunderstanding of professional practice. When the mentor helps the international teacher navigate this type of misstep, the capacity of the teacher is grown and student needs are met with increasing skill. Throughout the course of the year, the mentor supports the international teacher in understanding the approaches to teaching and learning that lead to success for all students.
Layering mentor support for our international teachers establishes the conditions for students to thrive in experiences we could otherwise never provide for them, and is an essential step in preparing them to be powerful global citizens.
---
ABOUT THE AUTHOR
Kimberly Freeman
Kimberly Freeman has served as the Employee Development Facilitator in the Office of Human Resources for Lexington County School District One for two years. Prior to this role, she was a middle school Latin teacher for twelve years in Lexington, South Carolina. During her time in the classroom, Kimberly was recognized as the Lexington One District Teacher of the Year in 2012 and named a Milken Educator by the Milken Family Foundation in 2015. As Employee Development Facilitator, she loves the opportunity to embrace teachers joining the Lexington County School District Team – both from across the United States and abroad.
---
Works Cited
Council of Europe. (2001). Common European framework of reference for languages: Learning, teaching, assessment. Cambridge, U.K: Press Syndicate of the University of Cambridge.