Back to AASPA Book Store
The Marginal Teacher, 3rd Edition
AASPA Store | Performance Management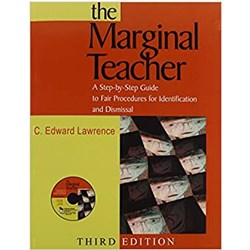 By C. Edward Lawrence, Myra K. Vachon, Donald O. Leake & Brenda H. Leake
This third edition of The Marginal Teacher offers timely solutions to successfully dealing with unproductive teachers. Lawrence illustrates the proper actions that headteachers should integrate into the evaluation processes to successfully gather documentation to help improve or terminate an ineffective teacher.
Complete with tools and resources to streamline the evaluation process, you'll find advice on:
Understanding the evaluation process, procedures, policies, and new legislation
Handling teacher dismissal
Integrating classroom observation techniques
Dealing with teacher misconduct
Incorporating action steps for conducting the school level dismissal meeting
Plus, the book includes an updated PC or Mac CD-ROM with customizable forms, checklists, calendars, and teacher dismissal documentation.
---