Back to AASPA Book Store
People Analytics in the Era of Big Data
AASPA Store | Planning & Preparation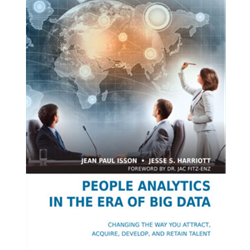 By: Jean Paul Issom & Jesse Harriott
Apply predictive analytics throughout all stages of workforce management
People Analytics in the Era of Big Data provides a blueprint for leveraging your talent pool through the use of data analytics. Written by the Global Vice President of Business Intelligence and Predictive Analytics at Monster Worldwide, this book is packed full of actionable insights to help you source, recruit, acquire, engage, retain, promote, and manage the exceptional talent your organization needs. With a unique approach that applies analytics to every stage of the hiring process and the entire workforce planning and management cycle, this informative guide provides the key perspective that brings analytics into HR in a truly useful way.
You're already inundated with disparate employee data, so why not mine that data for insights that add value to your organization and strengthen your workforce? This book presents a practical framework for real-world talent analytics, backed by groundbreaking examples of workforce analytics in action across the U.S., Canada, Europe, Asia, and Australia.
Leverage predictive analytics throughout the hiring process
Utilize analytics techniques for more effective workforce management
Learn how people analytics benefits organizations of all sizes in various industries
Integrate analytics into HR practices seamlessly and thoroughly
Corporate executives need fact-based insights into what will happen with their talent. Who should you hire? Who should you promote? Who are the top or bottom performers, and why? Who is at risk to quit, and why? Analytics can provide these answers, and give you insights based on quantifiable data instead of gut feeling and subjective assessment. People Analytics in the Era of Big Data is the essential guide to optimizing your workforce with the tools already at your disposal.
---