Back to AASPA Book Store
Leading for Results
AASPA Book Store | Leadership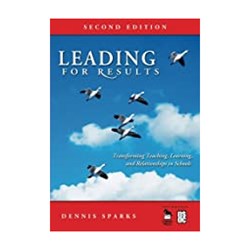 By Dennis Sparks
Lead for change by creating learning in your school! If you are ready for a change in your school this book will help you focus on results and develop powerful thoughts, words and actions geared toward reaching your goals. By investigating theories found in education, leadership and philosophy, you'll learn to create useable strategies for your school by engaging in next-action thinking.
Leading for Results consists of 26 short, interactive essays to aid leaders in reflecting on change and committing to action. Dennis Sparks, Executive Director of the National Staff Development Council, shows how school leaders can be accountable and achieve meaningful results for schools, districts, and their personal lives. Incorporating cutting-edge theories about improving the quality of leadership, teaching, and student learning, you'll turn ideas into action by:
Examining your assumptions and producing results-oriented thoughts, words, and actions
Deepening your understanding of important issues related to the interpersonal challenges of change
Engaging in next-action thinking and applying what you've learned
The ability to lead for change is within you. Begin by changing yourself, then engage with others to improve teaching and learning in your school or school system.
---