Back to AASPA Book Store
Leading for Results, 2nd Edition
AASPA Book Store | Work-life Integration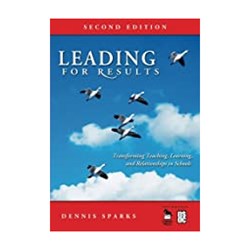 By Dennis Sparks
Improve teaching and learning in your school by fostering personal and organizational change!
Authentic or transformational leadership flows from self-awareness regarding intentions, values and feelings and its influence is reflected in a leader's actions. Leading for Results, Second Edition, focuses on the educational leader's role in actualizing human potential and unleashing individual and organizational energy, while promoting extraordinary performance in "ordinary" people by first changing within oneself.
In this updated edition featuring 18 new thought-provoking essays, Dennis Sparks shows how school leaders can promote extraordinary changes, be accountable and achieve meaningful results for schools, districts and their personal lives. Using bold theories about education, leadership, teaching and student learning, you'll learn how to make change happen, create usable strategies, commit to action and achieve goals by:
Examining your assumptions and producing results-oriented thoughts, words and actions
Deepening your understanding of important issues related to the interpersonal challenges of change
Engaging in next-action thinking and applying what you've learned
This powerful resource helps leaders to recognize their capacity for making a tremendous difference in their organizations, ensuring ultimate success!
---