Back to AASPA Book Store
How to Deal with Teachers Who are Angry, Troubled, Exhausted, or Just Plain Confused
AASPA Store | Performance Management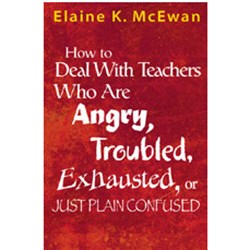 By Elaine K. McEwan
How to Deal With Teachers Who are Angry, Troubled, Exhausted, or Just Plain Confused is an indispensable handbook for educators hoping to manage, shape and improve teacher behaviors with the ultimate goal of improving student achievement and performance. This resource offers case studies from principals who have successfully managed dysfunctional and low-performing teachers, scripts for achieving effective communication and a culture-builder's toolkit with exercises and assessments.
In this research-based text, best-selling author Elaine McEwan introduces a new approach-Assertive Intervention-for dealing with a principal's most pressing challenge: How to manage difficult teachers effectively while empowering them as professionals. Assertive Intervention strategies show administrators, staff developers and mentors how to:
Confront difficult teachers with calm and confidence
Conduct an Assertive Intervention meeting
Energize and motivate teachers
Significantly improve interactions with troubled teachers
Build a positive school culture
This invaluable tool provides practical tools that can be put into practice immediately, and can be used with classroom teachers across all levels.
---