Back to AASPA Book Store
Generations at School. Building an Age-Friendly Learning Community
AASPA Book Store | Hiring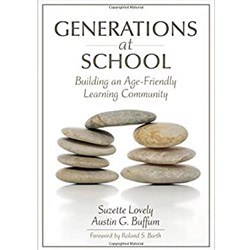 By Suzette Lovely & Austin G. Buffman
Today's workforce comprises distinct generational cohorts—Veterans, Baby Boomers, Gen-Xers and Millennials. Generations at School provides educators with the knowledge and tools to create and sustain true collaboration, teamwork and consensus.
Suzette Lovely and Austin G. Buffum introduce the traits and tipping points of these diverse age groups while providing:
Case studies and workplace alternatives for the hiring and retention of high-quality employees as well as practices for orientation, mentoring and boosting schoolwide communication
Guidelines for examining the generational footprint of an entire district, department or school site
Easy-to-apply strategies to promote cross-generational collaboration, performance and harmony
When sound communication emerges and differences are understood, school districts can create communities that appreciate the uniqueness of each member and value the rich contributions from a multigenerational staff.
---