Back to AASPA Book Store
Dare to Lead. Brave Work. Tough Conversations. Whole Hearts.
AASPA Store | Leadership & Miscellaneous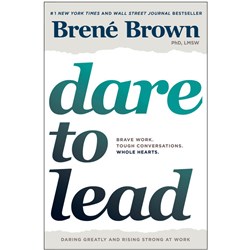 This book is for anyone who wants to step up and into brave leadership. Brené Brown has taught us what it means to dare greatly, rise strong and brave the wilderness. Now, based on new research conducted with leaders, changemakers and culture shifters, she's showing us how to put those ideas into practice so we can step up and lead.
Leadership is not about titles, status, and wielding power. A leader is anyone who takes responsibility for recognizing the potential in people and ideas and has the courage to develop that potential.
How do you cultivate braver, more daring leaders, and how do you embed the value of courage in your culture? In this new book, Brown uses research, stories, and examples to answer these questions in the no-BS style that millions of readers have come to expect and love.
---