Back to AASPA Book Store
Are Charters Different?
AASPA Book Store | Featured Books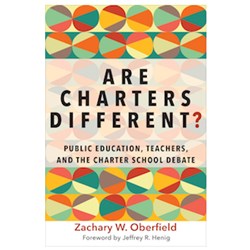 By Zachary W. Oberfield
In his new book, Zachary W. Oberfield investigates the question of whether charter schools cultivate different teaching climates from those found in traditional public schools. To answer this question, Oberfield examined hundreds of thousands of teacher surveys from across the nation. The result is a trenchant analysis that deepens our understanding of what the charter experiment means for the future of US public education.
Are Charters Different? shows that the teaching climates of charter and public schools do differ in important ways and explores the relative strengths and weaknesses of each. In addition, the book inquires into critical differences within the charter sector, between for-profit and nonprofit charters, and between independently operated schools and those that are part of educational management organizations. Ultimately, the book argues, the choice between charter and public schools should be more about what we value in public education and consider acceptable trade-offs.
---