Back to AASPA Book Store
10 Traits of Highly Effective Teachers
AASPA Book Store | Hiring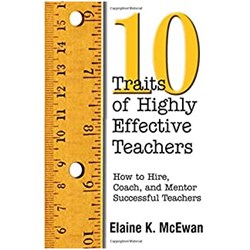 By Elaine K. McEwan
Discover the qualities that yield exceptional performance and far-reaching success!
As all educators increasingly face the pressures of accountability, filling our schools with effective teachers skilled at fostering outstanding academic achievement has never been more important. In this quick-read resource, Elaine McEwan explores the ten characteristics that lead to success in the classroom, increased school morale, satisfied parents and eager, high-achieving students.
This highly organized and user-friendly guide shares practical insights into these ten crucial traits through real-life examples, experiences, research and personal reflections from students, parents and educators at all levels.
Administrators will value the numerous tools that Ten Traits of Highly Effective Teachers provides for hiring, coaching, mentoring and motivating effective teachers, while new and experienced teachers will be inspired to fully embody the ten traits and renew their zeal for teaching.
Special features include:
Numerous graphic organizers to clearly illustrate the ten traits
More than 50 interview questions based on the ten traits to help administrators and teachers prepare for the all-important interview process
Dozens of exercises for principals to use to energize experienced teachers, empower new teachers and nurture the ten traits
Examples from research that highlight the relationship between the traits and student achievement
---