Contemplating How to Use AI in HR
Date posted
February 21, 2023
Contemplating How to Use AI in HR
Artificial intelligence has been slowly helping Human Resources teams to automate processes and procedures, increase efficiencies, and improve both the candidate and employee experience. We first started using AI in the form of a chatbot on our career site to engage with candidates at their peak of interest, while providing an opportunity for candidates to communicate and find information in a 24/7 world. There has been quite a bit of buzz recently about the use of conversational AI in HR. New developments in technology are now bringing artificial intelligence to the forefront with intelligent writing and conversation that could help transform how we manage Human Resources in an organization. As an HR professional, I began to wonder about how I might use this new technology for my district.
My first thought was whether or not I could use this technology to help write a job ad. I tasked AI with "write an advertisement to recruit for a school bus driver" I received this response in less than 5 seconds: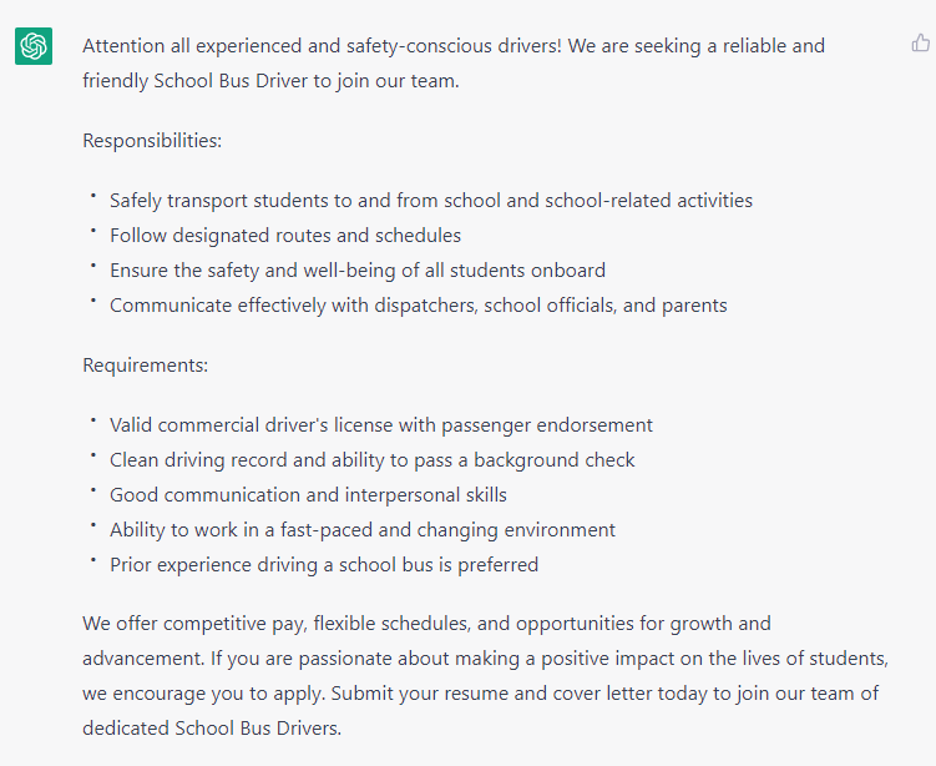 Not bad for a "first draft" at all! I then experimented with "how to have a difficult conversation with an employee" and "write a job description for a school bus driver" with equally impressive first draft results. All the results were produced quickly and much faster than I could have typed myself. I could definitely see how having a draft to work from could be very useful when applied with my experience and knowledge.
I used to do math manually, and am still able to (in most cases!). I've seen an abacus, but never used one. I have used calculators to improve my efficiency, and now use one from time to time on my phone. I now use spreadsheets regularly to build budgets, put together proposals, and track projects. Artificially intelligent chat will potentially provide the same impact to the writing portion of human capital leadership.
This technology is not yet perfected, but it is improving each and every day. As an HR professional it can be used as a "first draft" that you can then fine-tune to meet your needs. In order to use the "first draft," human resources expertise will still be needed to ensure that it meets organizational, legal, and other requirements.
I would encourage you to try this new tool out while it is in Beta version to learn more about its potential, potential use, and potential pitfalls. You can test this at https://chat.openai.com/
Human resources should not be replaced by this technology, but we should embrace it and learn how to use it effectively in our practice. We are the experts entrusted with maximizing the effectiveness of our employees and allowing them to focus on the most important tasks. It is time we continue to look at ourselves and how we can improve the services we provide and focus on those things that matter most to our organizations: meeting the needs of our students and communities.

Appendix:

Other examples
"How can I coach an employee about being late to work"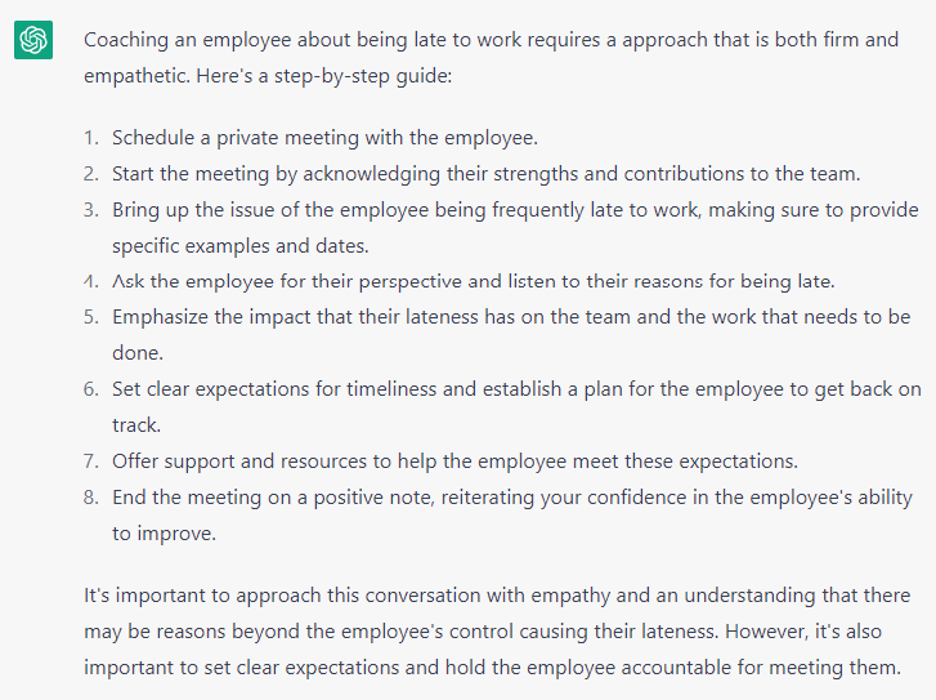 "Write an article about using chatgpt in human resources management effectively"