2022 PowerSchool K-12 Talent Index: Education Research Report
Date posted
April 12, 2022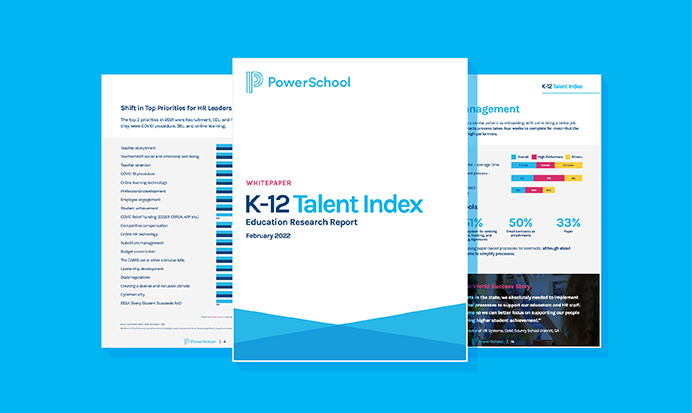 HR Practices of Top-Performing K-12 Districts Revealed in Annual K-12 HR Survey
PowerSchool recently released the results of their annual K-12 HR survey in their 2022 PowerSchool K-12 Talent Index: Education Research Report. This year the edtech leader took a closer look at the data to identify what separates high-performing districts from the majority. What they found were reliable consistencies in the talent management practices of districts that retain more employees, onboard new ones faster, and help teams move faster in making data-driven decisions.
In this blog post, we'll cover key takeaways from the report. You can learn more by getting your copy of the full HR report from PowerSchool.
About the 2022 PowerSchool K-12 Talent Index: Education Research Report
PowerSchool hired third-party research group Strategy Analytics Inc to conduct the sixth annual edition of their Talent Index. They gathered data through a blind survey of over 300 K-12 HR professionals across the U.S. Each respondent was identified as an active decision maker within their district. Survey questions covered all aspects of talent management, and they were written to help the researchers identify practices, trends, outcomes, and specific attributes of high-performing districts.
Strategy Analytics then analyzed the data to identify statistically significant trends and conclusions. They identified high-performing districts based on outcomes like higher retention, faster hiring, and minimized administrative burden, among others. From there, they identified reported practices and conditions at those districts.
Exceptional Outcomes of High-Performing Districts
In PowerSchool's report, high-performing districts are those that:
Retain 96% or more of their teachers and staff from year to year

Onboard new employees in five days or less

Enable their staff to find the data they need in five minutes or less
While the majority of districts surveyed fall short of these indicators, a significant enough number do to chart management practices shared by many of them.
While many factors can affect each district's ability to retain and hire teachers and staff, the report appears to show a correlation between improving HR processes and better talent outcomes. It's also worth considering that HR teams able to quickly find information and data can more easily use it to drive sound, informed decision making.
High-performing districts tend to:
Simplify administration with integrated digital systems
Integrated technology appears to be a common trait across the majority of high performers. According to the report, 70% of high-performing districts use automated checklists for onboarding processes, and 62% use automation for contract renewals. Over half of them use integrated systems for analytics and reporting. Allowing technology to handle some of the administrative burden frees staff from tasks that pull them away from focusing on their peoples' needs. Integrated systems can also make it much easier to find vital data across departments and use it to make informed decisions. This helps teams move faster and work toward strategic goals at every level.
Eliminate stacks of paperwork with digital records
From assembling and mailing onboarding packets to simplifying HR recordkeeping and contract renewals, high-performing districts in the study tend to use digital records, meaning they can save time and material costs. This can also make it easier for employees to complete administrative tasks and processes. They don't have to worry about losing a paper form or deciphering illegible handwriting. In fact, 79% of high-performing districts in the study report that they feel their processes are highly efficient. And when digital records are used with integrated software systems, information can auto-fill across forms, reducing data re-entries and improving accuracy.
Prioritize teacher growth and social and emotional learning (SEL) training
Perhaps as a result of having more efficient HR processes, high-performing districts tend to invest more into prioritizing teacher growth and development. According to the report, over 90% offer some form of SEL training to their teachers and staff. These districts also prioritize past teacher evaluation feedback in PD plans, which can help them personalize career development. Helping teachers build their skills to cope with change and build their careers can go a long way toward improving retention rates and ensuring that students get the best possible teachers in every classroom.
What can we learn from these traits of top-performing districts?
K-12 education continues to change rapidly as many districts find new benefits of digital systems adopted out of necessity during the global pandemic. Just like classroom software adopted to facilitate remote learning continues to help teachers distribute rich, engaging learning content accessible from anywhere, digital HR processes continue to benefit districts long after they've returned to in-person operations. The flexibility and efficiency of online, integrated software help everyone get more done in less time.
The practices and traits of high-performing districts in this report likely represent a trend that will only grow. As the benefits become clear, more and more districts will invest in and continue to develop their technology infrastructure. Teams will spend less time burdened by paperwork, slow processes, and difficulty accessing critical data for decision making. They'll let technology take the busy work, automate workflows, and use intuitive central dashboards to make decisions based on real-time, accurate data. Yes, the future for tech-forward districts and HR departments is bright.
Dive into the data on your own with a copy of the 2022 PowerSchool K-12 Talent Index: Education Research Report
Get your free copy of PowerSchool's annual K-12 HR report to read more about current trends, priorities, and challenges reported by districts across the U.S. This is your chance to get in the know about the current state and future of K-12 HR.
<bottom><div class="addthis_inline_share_toolbox"></div>