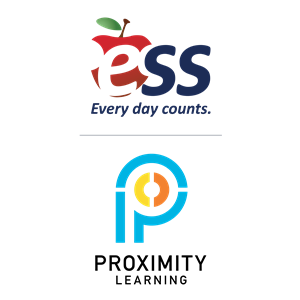 Organization Overview
As leaders in the education staffing space since 2000, ESS specializes in placing qualified staff in daily, long-term, and permanent K-12 school district positions including substitute teachers, paraprofessionals, and other school support staff. Over the last 22 years, we have innovated education staffing to provide dynamic solutions to school districts and professional opportunities to passionate educators. Our team serves over 4.5 million students with a pool of 80,000 substitute and permanent employees throughout 32 states. Internally, the ESS team is comprised of 650 individuals with a passion for education working together to ensure our 900 partner districts experience valuable education every day.

In business since 2009, Proximity Learning was initially focused on live-streaming World Language teachers from around the world to individual students in the United States. As demand grew and public schools began to inquire about placing Proximity Learning teachers in their schools, we saw an opportunity to expand scope and make an impact on the education sector.

Today, Proximity Learning conducts classes in over 30 topic areas in over 200 schools across 20 states. We strive every day to pursue equitable access to quality education for students everywhere by bringing the power of live-streaming virtual teaching to the traditional classroom so young learners can receive the education they deserve. Our virtual teaching methodology, continuously refined for over a decade now, is centered around the fact that students deserve to always have an instructor that is live, dynamic, and caring.
Fred Bentsen
Vice President of Business Development
Chrissy Dickerson
Marketing Events Manager
Evan Erdberg
CEO, President
LeeAnne Maronna
Sales & Events Coordinator
Michael Robinson
VP of Business Development & School Partnerships
Ron Glisk
Senior VP of Sales and Marketing

---