Back to AASPA Book Store
Workplace Diversity in K-12 Public Schools. How to Diversify your Teaching Population
Webinars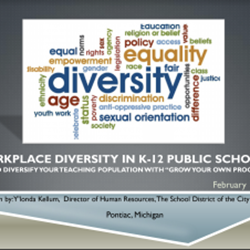 Original Date of Webinar - February 12, 2019 @ 1:00 PM - 2:00 PM CDT
Y'londa Kellum, Director of Human Resources for the School District of the City of Pontiac, will present.
Having excellent teachers for all students can be a challenge, so sometimes you have to grow your own! School districts are beginning to develop their own teacher pipeline. By supporting non-certified teaching staff to become future teachers; Research shows growing your own teachers is a viable means of creating a continuous supply of quality that is reflective of the diverse teacher workforce needed within an urban school community. This presentation will show how the director of HR with the support of the superintendent of schools along with school administration for School District of the City of Pontiac has thought outside the box to recruit, hire, and retain a diverse teaching population.
ARE YOU AN AASPA MEMBER? CLICK HERE TO VIEW THE WEBINAR FOR FREE.
---