Back to AASPA Book Store
Who is Wearing Which Hat? Staffing & Training Under the New Title IX Regulations
Webinars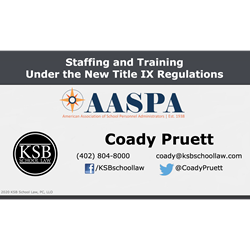 Original Date of Webinar - July 29, 2020 @ 1:00 PM - 2:00 PM CDT
Coady Pruett, attorney at KSB School Law, Lincoln NE, will present.
The new federal regulations governing Title IX (which go into effect August 14, 2020) contain significant procedural requirements for certain classes of Title IX complaints, including specific roles for a variety of school personnel or representatives. In this AASPA webinar, school lawyer Coady Pruett will discuss some of the details of these regulations and some of the (staffing and training issues for you to keep in mind as you develop your district's plans for Title IX compliance.
ARE YOU AN AASPA MEMBER? CLICK HERE TO VIEW THE WEBINAR FOR FREE.
---