Back to AASPA Book Store
Recruiting Generation Z
Webinars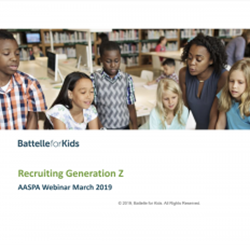 Original Date of Webinar - March 27, 2019 @ 1:00 PM - 2:00 PM CDT
Emily Douglas-McNab, Senior Director, Improvement and Impact at Battelle for Kids, will present.
Just when you thought you had a handle on recruiting and working with Millennials, we welcome Generation Z into the workforce! Born between 1996 and 2012, these newbies are still in school or recently graduated and looking for a job. If you want to recruit them, you better start to understand their technology, communications, rewards, and team preferences now. In this session, we will look at research around Generation Z's behaviors and preferences to assist organizations in planning for recruitment.
ARE YOU AN AASPA MEMBER? CLICK HERE TO VIEW THE WEBINAR FOR FREE.
---