Back to AASPA Book Store
Recruit like a Retailer
Webinars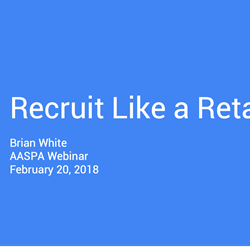 Original Date of Webinar - February 20, 2018 @ 1:00 PM - 2:00 PM CDT
Brian White, Executive Director of Human Resources and Operations with Auburn-Washburn USD 437 in Topeka, KS will present.
Retails sales and marketing professionals apply strategies to increase customer interest, engagement, satisfaction and sales. Attendees will learn about retail strategies and tips translated into real world school district recruiting examples.
ARE YOU AN AASPA MEMBER? CLICK HERE TO VIEW THE WEBINAR FOR FREE.
---