Back to AASPA Book Store
How to Get Ahead of Teacher Retention and Employee Engagement
Webinars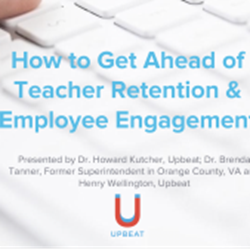 Original Date of Webinar - September 27, 2018 @ 2:00 PM - 3:00 PM CDT
Dr. Howard Kutcher, Director of District and State Support with Upbeat Education in Brooklyn, NY and Brenda M. Tanner, Ed.D., President, Dominion Education Services, LLC in Washington DC will present.
Webinar attendees will come away with new practices around ways to support school leaders in enhancing satisfaction and engagement for their teachers and non-instructional staff.
ARE YOU AN AASPA MEMBER? CLICK HERE TO VIEW THE WEBINAR FOR FREE.
---