Back to AASPA Book Store
Engaging Your Team During Challenging Times
Webinars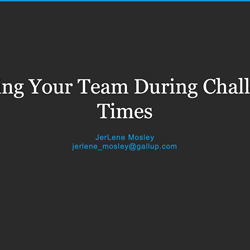 Original Date of Webinar - May 14, 2020 @ 1:00 PM - 2:00 PM CDT
JerLene Mosley, Senior Consultant at Gallup will present.
Working from home presents new challenges for managers and teams, but also new opportunities for building relationships, engagement and performance. How do we support wellbeing and sustain productivity in a remote working environment? As we consider each role, team and individual, join us for Gallup's latest research and strategies.
ARE YOU AN AASPA MEMBER? CLICK HERE TO VIEW THE WEBINAR FOR FREE.
---