Back to AASPA Book Store
Eat That Frog
AASPA Book Store | Leadership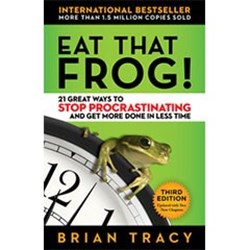 By Brian Tracy
Do you ever feel like there simply aren't enough hours in the day? Do stress and anxiety overwhelm you when you think of your huge to-do list that only seems to grow longer?
If you're like most people today, you feel like you're constantly battling the clock. Between work, quality time with family and friends and all the other tasks you're responsible for, you simply don't have enough time. In fact, sometimes you feel so overwhelmed, you simply shut down. It's time to take back your life.
My powerful system, based on my best-selling book, Eat That Frog!, is designed to help you recapture your time. With it, you discover and learn to use the tools you need to master your time – and in turn, to master your life. "Eat that frog" is simply a metaphor for tackling the most challenging task of your day. When you apply this theory all day, every day, you become a veritable power house of productivity. So, not only do you have more time to do the things you love with the people you love, but you also become indispensable to your managers and employers.
---