Back to AASPA Book Store
Developing a Mentoring Program for Education Support Professionals
Webinars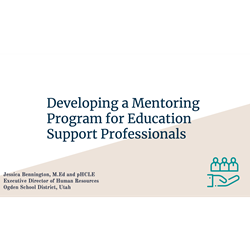 Original Date of Webinar - July 2, 2020 @ 1:00 PM - 2:00 PM CDT
Jessica Bennington, Executive Director of Human Resources at Ogden City School District in Ogden, UT will present.
Talent development is a vital component to increasing employee retention, build their confidence, credibility and improve workplace efficiency. Come and see the progress one district has made, in collaboration with their association, to develop a mentoring program to increase employee engagement and retention.
ARE YOU AN AASPA MEMBER? CLICK HERE TO VIEW THE WEBINAR FOR FREE.
---