Back to AASPA Book Store
Choose Your Own Adventure. Certificated and Classified Staffing and Leave Issues during COVID-19
Webinars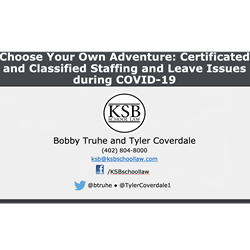 Original Date of Webinar - August 11, 2020 @ 1:00 PM - 2:00 PM CDT
Bobby Truhe, Partner & Tyler Coverdale, Attorney from KSB School Law in Lincoln, NE will present.
"Can I work remotely?" "Am I entitled to leave?" "My husband's disability puts him at increased risk for COVID-19, what accommodations am I entitled to?" Weeks away from the start of the school year and these questions are already coming in droves. As a result, you're probably left with a few questions of your own! "How do I respond to these requests?" "What did that 2,000-page piece of legislation actually mean for leave requests?" Most importantly, "How in the hell am I going to keep my school staffed this school year?"
ARE YOU AN AASPA MEMBER? CLICK HERE TO VIEW THE WEBINAR FOR FREE.
---