Back to AASPA Book Store
At the Top of Your Recruiting Game? Planning and Plays for Recruiting your Future Staffers
Webinars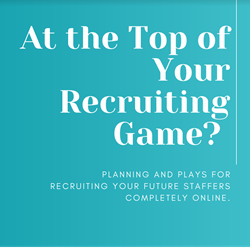 Original Date of Webinar - April 8, 2020 @ 2:00 PM - 3:00 PM CDT
Emily Douglas-McNab will present.
In only a moment's notice, education organizations had rethink how they do business. While much of our efforts from an HR standpoint have been spent trying to get current staff to a place where they are supported and safe, we must be thinking about the future. What we know is that Colleges and Universities are still in session and they will soon be proudly graduating the class of 2020. And, in other situations, the current state of the world has caused individuals to re-think their careers and organizations. Maybe education would be a good fit? In this session, we will talk about 10 things any organization should be thinking through to ensure their recruiting game is in top shape. Join us and up your online recruiting game!
ARE YOU AN AASPA MEMBER? CLICK HERE TO VIEW THE WEBINAR FOR FREE.
---