Back to AASPA Book Store
COVID 19 and its Impact on Collective Bargaining
Webinars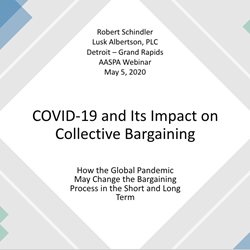 Original Date of Webinar - May 5, 2020 @ 1:00 PM - 2:00 PM CDT
Robert Schindler from Lusk Albertson, PLC will present.
The outbreak of COVID 19 has created significant change and turmoil in American society, and especially in schools. The forced shutdown of schools throughout the country has already had a tremendous impact on the manner in which schools function and will have a lasting impact in many respects (both known and unknown). This webinar will focus on how this impact may change the process and topics to consider in collective bargaining. The webinar will address issues, considerations, and possible solutions regarding remote/virtual collective bargaining, virtual education, long-term impact of technology in the classroom/distance learning, declining tax revenues and potential bargaining responses, and more.
ARE YOU AN AASPA MEMBER? CLICK HERE TO VIEW THE WEBINAR FOR FREE.
---